Published on Wednesday, April 7, 2021
Access our latest property investment summary by completing the form below.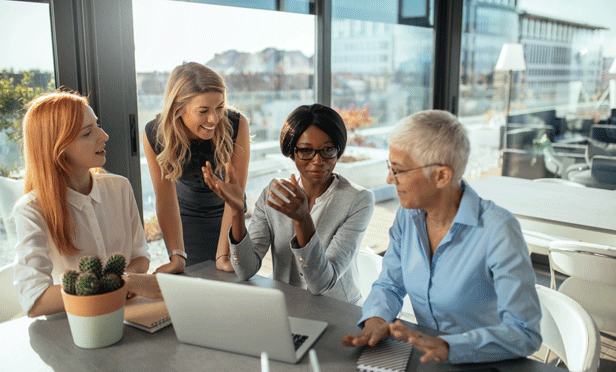 Honoring industry organizations and male and female professionals as diversity advocates, GlobeSt. Real Estate Forum is offering two new Diversity Champion categories for the 2021 Women of Influence awards.
The commercial real estate industry has been increasingly called upon to correct and amplify its protocols regarding gender inequality. The historically male-dominated field continues to display prominent gender inequity throughout the industry, across leadership positions, salaries, advancement opportunities, hiring practices and more.

According to CREW Network and MIT Center for Real Estate's 2020 Benchmark study report, men in commercial real estate make about 10% more than women in their base salary. However, with annual commissions and bonuses, men earn an average of $144,000, while women earn $42,000; representing a 70% gap.

However, as more executives begin to recognize the clear fundamental benefits that women in leadership can bring to the table, more and more industry organizations are prioritizing diversity and inclusion initiatives.

As a step in the right direction, many commercial real estate companies, both established institutions and entrepreneurial start-ups, have recently amped-up their efforts in correcting this disparity through various initiatives, recruiting practices, educational and advancement opportunities, internal programming, equal pay, newly-formed committees, roundtable discussions, etc.

Altering protocols to provide equal opportunity to all, these companies are purposefully appointing more women to crucial leadership roles, and additionally creating new positions to lead diversity & inclusion efforts.

These companies are not just vocalizing their support for female professionals, they are following through on their word. They stand for change as pioneers within the industry, and their corporate culture reflects it.

With this in mind, GlobeSt. Real Estate Forum is launching two new nomination categories for the 2021 Women of Influence Awards. In addition to the various nomination categories in which candidates may be submitted for the awards, this year, GlobeSt. Real Estate Forum will present two separate Diversity Champion recognitions, to honor the immense efforts that industry professionals put forth toward furthering gender equality.

The first newly-created nomination category is available to commercial real estate organizations that serve as an advocate for women and diversity. These organizations prioritize and champion gender equality, and experience superior performance as a result. They powerfully cultivate change and excel in internal diversity practices. These organizations set a precedent for other companies throughout the entire business community.

The second Diversity Champion nomination category is designated for individual commercial real estate professionals, both male and female, that persistently champion the cause of female advancement in the industry. Serving as active advocates that empower and encourage women within the field, these individual professionals push diversity initiatives forward, personally lead inclusion efforts and garner cultural change in the workplace and the industry as a whole.

Aiming to recognize these catalysts for change and equality, GlobeSt. Real Estate Forum invites you to nominate an organization and/or a male or female professional that insistently promote gender equality within commercial real estate. If you know of a well-suited company or individual that is deserving of this recognition, please submit a nomination before the deadline of April 14.



The 2021 Women of Influence will be highlighted within the July/August issue of GlobeSt. Real Estate Forum and will additionally gain recognition on GlobeSt.com. We also plan to honor the chosen Women of Influence at our third annual GlobeSt. Women of Influence Awards Dinner, which will be held in Park City, Utah in July 2021 – assuming health and safety guidelines allow.